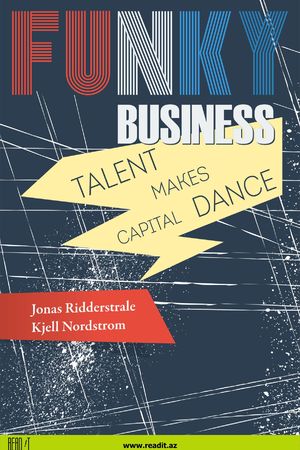 «Funky Business»
Kjell Nordstrom and Jonas Ridderstrale
Category : management and business strategy
What is this summary about

Nobody wants to work for an uninspired company: nobody wants to buy from one either. In Funky Business, two leaders of the new generation of business thinkers demonstrate how to build companies where people can be creative risk-takers; where exciting ideas happen, exciting products become reality, and talented people want to stay.
About author:
Kjell Anders Nordstrom is a Swedish economist, writer and public speaker. He is presently Associate Professor at the Institute of International Business (IIB) at the Stockholm School of Economics. Amid the madness and hyperbole surrounding the new economy, Dr. Kjell A. Nordström is a guru of the new world of business.
Jonas Ridderstrale is a Swedish business speaker, thinker and author, best known for the bestselling book Funky Business - Talent Makes Capital Dance. He is currently a visiting professor at Ashridge Business School and IE Business School.
Summary language: English