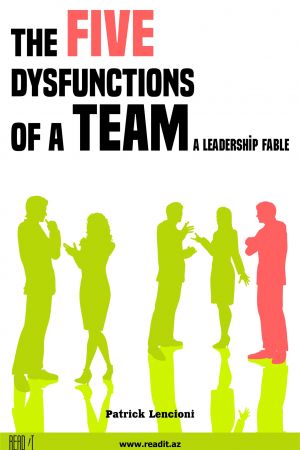 «The Five Dysfunctions of a Team: A Leadership Fable»
Patrick Lencioni
Category : management and business strategy
What is this summary about

In The Five Dysfunctions of a Team Patrick Lencioni reveals the five dysfunctions which go to the very heart of why teams even the best ones-often struggle. He outlines a powerful model and actionable steps that can be used to overcome these common hurdles and build a cohesive, effective team. Just as with his other books, Lencioni has written a compelling fable with a powerful yet deceptively simple message for all those who strive to be exceptional team leaders.
About author:
Recognized as a true pioneer in leadership and business, Patrick Lencioni is a New York Times best-selling author and according to the Wall Street Journal "one of the most in demand speakers in America." In 2008, he was named by Fortune magazine as "one of the new gurus you should know."
Lencioni is the architect of organizational health, a concept that he calls the last competitive advantage in business today.
Summary language: English